Oral history: The legend of 'The Maestro' lives on
Twenty years ago, and two years after legendary basketball coach Virgilio "Baby" Dalupan's retirement from coaching, his incredible legacy is being immortalized in a book that charts everything: from his early years, to his success with the UE Red Warriors and Ateneo Blue Eagles, to his greatness with Crispa, Great Taste, and Purefoods in the PBA, to having nine PBA MVPs play for him at one point, to winning 15 PBA championships and 26 more from different basketball leagues.
On October 19, 2015, Dalupan's 92nd birthday, Philippine basketball icons and legends from different generations gathered to celebrate his greatness and witness the launch of "The Maestro of Philippine Basketball," a coffee table book that will give younger generations an in-depth look Dalupan's achievements and stature in four decades of coaching.
Dalupan is a visionary. His thinking was avant-garde at a time where coaching was supposed to be "basic" or "simple". He knew how to handle talent, incorporate it into a cohesive whole; his technical know-how allowed him to make precise plans against opposing teams.
More than that, he was a family man who touched many athletes' lives and transformed them into superstars on the court, and gentlemen off of it. "He is the greatest coach but it was never about him", Tim Cone said as he shared how Dalupan was so selfless and humble.
For all his invaluable contributions to the sport, his legend will truly live on through Filipino basketball fans across all generations, and it shall never fade from the minds of those who have known him through the years.
Atoy Co, Crispa Redmanizers, Mapua Cardinals Head Coach
---

"He is a man of few words but you know how important the game is to him. Nagpapasalamat ako dahil binigyan niya ako ng career. Ang una ko talagang ginagawa ay taga guwardiya. Lahat ng scorer ng kabila, ako ang guguwardiya. Si coach Baby, alam niya paano niya gagamitin ang players niya at yung talento. Alam niya itatapat niya sa ibang coach."
Bogs Adornado, Crispa Redmanizers, Three-time PBA MVP
---
"Si coach Baby is a very disciplined coach. Pinaninindigan niya yun. Minsan, si (Bernie) Fabiosa, madalas malate yun sa practice at sa game. One time, Araneta ang game. Late na naman. Hindi na pinagbihis, pinauwi na. Ang isa pang katangian ni coach, magaling sya kumilatis ng player na hindi pa developed, nadedevelop niya. Isa ako dun and I was able to perform. Binigyan niya ako ng break.
"It feels great you see your former teammates and former coach. I played 10 years for coach and we won many championships. The rest was history. He has that talent know to handle the team. Magaling siya kumilatis ng player, katulad ng isa, paano ito gagaling. Look at (Sonny) Jaworski. He never made high school varsity. Ang dami niyang pinasikat. Siya ang nakakaalam and noong araw, hindi niya sinusulat sa board. It's all in his mind. One time I asked him anong strategy namin for tomorrow. Sabi niya, tingnan na lang natin anong ilalaro ng kalaban. Magkakaroon na ng souvenir for a great coach. Established na yun. He is the greatest. Yung winning attitude niya, and yung nadevelop niyang players. It is not about the championship but how he coached and won the championship for us."
Philip Cezar, Crispa Redmanizers, PBA Hall of Famer
---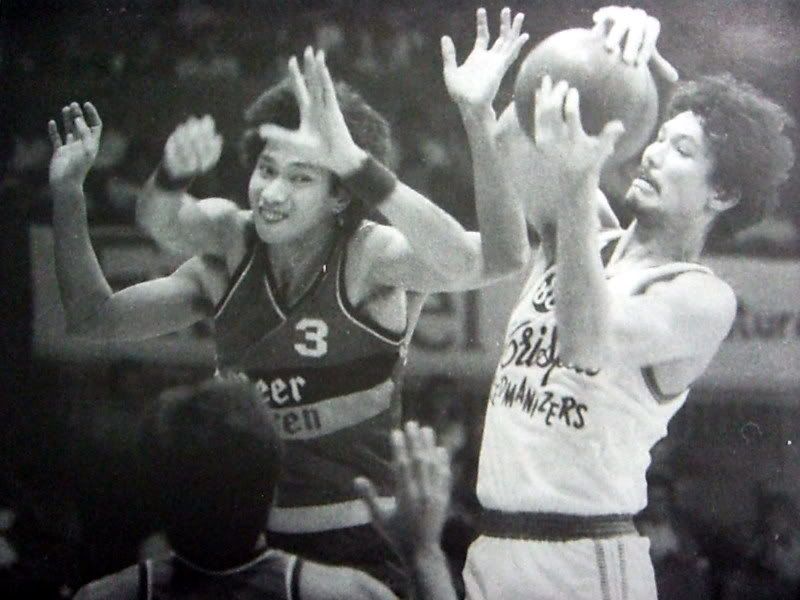 "Ang isa sa mga natutunan ko sa kaniya, maging totoong tao ka. Kailangan sa kaniya, lagi kang ready. Kapag tinawag ka niya, 'Philip! Halika, palitan mo si ganiyan!' Alam mo na gagawin mo. Lahat ng mahirap depensahan binibigay niya sa akin. Parang tatay yan, hindi puwedeng hindi susundin."
Coach Dante Silverio, Toyota/Dalupan's rival head coach
---
"Bati na tayo ha. Pag nagme-meet yung teams natin hindi kami nagkikibuan. Walang tinginan. Parang galit. This is a memorable night. It is a good thing it is recorded for Philippine basketball. Truly the launching of the book of Baby is a must item for basketball. We are happy it was initiated and has been done already. It is a good book for references and we have to say the record of baby is unsurpassed. I learned a lot from his coaching style and he made a coach out of me. We had a lot of bonds.
"Baby is a fierce competitor. He didn't take games for granted. He would see to that it the players will have give their best to win the game. Regardless of the results, he wants the players to exercise their best efforts for the team."
Former senator Sonny Jaworski, UE Red Warriors/Crispa Redmanizers
---

"Yung first love mo, (basketball), hindi mo nalilimutan yan. I played with him for four years and I was very fortunate we won 7 of 8 (titles). It is a treasured opportuioty. He is a very decent man, simple in many ways, extremely patient, kind, but he has very simple words and the best thing about him is he knows who is the guy to this and do that against this fellow team. Other than that he makes everybody feel a member of the family which is crucial to the team. We had wonderful times together even in trouble. He had some short but funny statements. There is some guy (himself) who before he shoots, coach shouts 'rebound!' Alam mo nang hindi shoshoot, ishoshoot mo pa. And that guy was with him for four years (laughs). Thats how patient he is."
Alvin Patrimonio, Purefoods Tender Juicy Hotdogs, UST Growling Tigers consultant
---

"The respect for coach Baby when pumasok sya sa Purefoods, excited po kaming lahat. Feeling ng team, ah magcha-champion na to with him, because teams he handled turn to championship contenders. Turns to gold. Kahit hindi mahirap yung ensayo, all of us pag game time we will give out best to honor him for the championship. First championship ng Purefoods, coach siya. We have to thank him for that. We will treasure this coach and salamat sa contribution niya to Philippine basketball.
"For this book, mai-inspire lahat ng mahilig sa basketball and finally, mababasa nila ang istorya ni the maestro. It is about time na rin for this book. I am sure the next generation of coaches and players mabe-bless with this book. He is the greatest of all time talaga. For me, what stood out is the respect for the game because he is the winningest coach, for us players ibibigay mo rin yung respect mo. He is the best coach eh. Yun ang naging attitude namin. We wanted to honor him and the players want to give him a championship agaim. Everybody said humility is number one. Ang daming nagmamahal kay coach and all players na nahandle niya saludo sa kanya."
Steve Watson, Ateneo Blue Eagles
---
"Here I was, a young guy, and I don't know what was it like to play in the NCAA until I played for coach baby. I didn't realize how loud it could be. I didn't know what instruction what he would tell me. All he said was, 'Steve, ano ba!' and I already know what he was trying to tell me."
Tim Cone, Winningest PBA head coach
---

"I wrote this on June 4. I had the incredible honor to be invited to Coach Baby's home and listen to his story of his life and his family. I listened in awe. I have researched everything I could and I had heard stories I have never heard before, the one thing about those stories is that everytime he spoke, he never used the words I or me. It was always us or we. He always deflected credit. It was a true lesson in humility.  He was the greatest coach but it was never about him. That was my insight to why he is a great coach. They work like symphony on the floor. They played the game differently from everyone else. With flair and togetherness and they won and won and won. I really can't remember his teams ever losing. I'm sure there are ups and downs but it seems like they always win all the time. Everyone of us was touched by coach Baby. He was the first, the best, and the brightest. We all love him dearly. We know without him we would not be here. He paved the road for all of us coaches and we hope we can carry on his legacy. It is truly one of the proudest moments of my life.
"The best part of the book is that it brings the legacy back to the consciousness of the younger PBA fans. They hear about stories but to know all the little details, it is so fascinating if you are a fan to have that inside look about the teams, players, and coach Baby himself. I think that is important for us to honor and remember our history. As a society it is important to remember the heroes of our society. Honestly, he is a hero of our society. He is not a Bonifacio or a General Luna but I mean, for this day and age and the kind of things he has done and the people he has impacted, he is a hero. I think it is just great everybody has come together. I am just happy to see all the Hall of Famers back in one room, and that is the kind of things this stuff does. They come together because they want to honor one man.
"The biggest compliment I can give is that when they were talking about Baby, my wife leaned over to me and said, you know, those are the things we try to get on our team. So what that means is he was doing 30 years ago the stuff we want our players to accomplish right now. And that goes to show how ageless his coaching is. The idea of being a father, the discipline, all those things are timeless. They weren't seemingly as important then, but now we all know it. That's what we are all talking about now."