Big third quarter powers NU past AdU
The National University Bulldogs used a huge third quarter rally to stave off the Adamson University Soaring Falcons 65-52 in Group A action of the Filoil Flying V Hanes Premiere Cup early Friday evening at the Filoil Flying V Arena in San Juan City.
The Falcons immediately pumped in a fast pace in the early minutes of the game as rookies JD Tungcab and Harold Ng punched in two fast break lay-ups to give AdU a quick 6-3 lead. After a quick timeout by NU's coach Eric Altamirano, the Bulldogs settled in their offense and were able to grab the lead as Rev Diputado and Angelo Abatayo scored on the inside to give NU a 13-11 edge. The Bulldogs were able to quell a 6-0 spurt courtesy of Nico Cabote's back-to-back three pointers as Rden Celda was able to score four straight free throws. The Bulldogs went up 19-14 to end the opening quarter.
The second quarter was a low scoring affair as both teams struggled on offense. JD Tungcab was able to keep the Falcons afloat scoring four points in the quarter. On the other end, Gelo Alolino was aggressive on the drive to grab fouls and converting on free throws. With 1.5 seconds remaining on the game clock to end the quarter, Alolino was able to get a quick steal and passed the ball to Mohammad Salim for an and-1 play to put NU up 31-26 at halftime.
Just like in the opening quarter, the Falcons quickly cut down the NU lead behind a three pointer and a lay-up by Matthew Aquino. At the 7:45 mark of the game, Nico Capote found a cutting Joseph Nalos for a lay-up to tie the game at 33. After an NU timeout, the defending UAAP champions went on a huge 10-3 run behind two shots from beyond the arc by Jay Alejandro and another one by Reggei Morido. Two more three pointers by Morido and Javelona gave NU a 51-41 lead entering the final frame.
The pace again slowed down in the final period as first year Senegalese big man Seny Gaye continued to anchor the NU defense while Alejandro headed the offense. Adamson slowly crept in at the 3:19 mark with NU holding on to a slim 51-57 lead, Pao Javelona was able to cross his defender out and connected on a jumper to give NU a 59-51 lead. However, Javelona awkwardly landed on his left ankle. NU was able to close the game with a Gaye dunk coming from a Salim pass to win the game 65-52.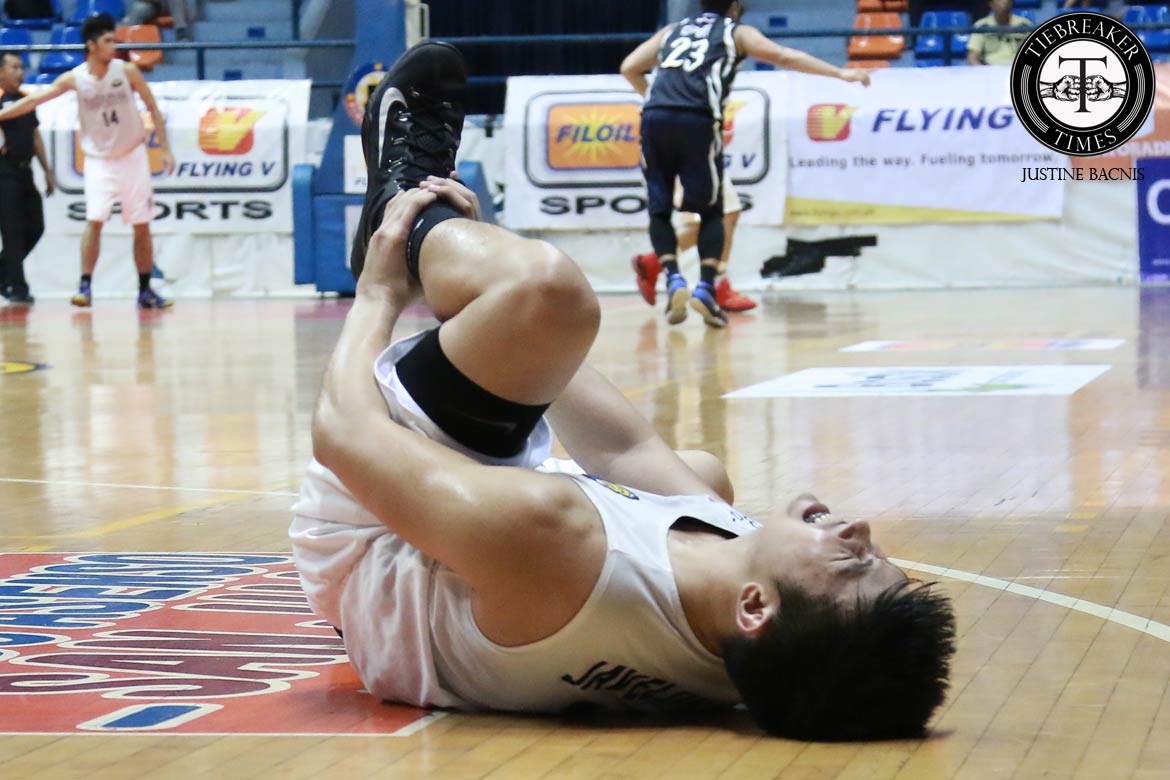 After the game, the NU physical therapists told Tiebreaker Times that their early prognosis was that the injury was just an ankle sprain.
In the post-game interview, Coach Eric Altamirano expressed pride with regards to the 18-year old Seny Gaye. "Gaye went to high school at NU for two years but did not play with us. He only practiced with us three weeks ago in our camp [in Tagaytay]. He is a quick learner but has to learn more about the game."
Gaye grabbed a huge double-double with 13 points and 16 rebounds while also blocking four shots. Jay Alejandro had 11 points while Salim had nine points. NU Team captain Gelo Alolino had six points, six rebounds, and six assists. For Adamson, Capote top scored with 13 markers, while sophomore Matthew Aquino only had eight points but was able to block seven shots.
As a team, NU greatly outrebounded their opponents 52-29. In addition, the Bulldogs' ball movement was crisp — evident in their 15 assists on 24 made field goals.
The NU Bulldogs will have the JRU Heavy Bombers next on their assignment on May 27 at 6:45pm while the AdU Falcons look to bounce back against the CSB Blazers on the same day at 3:15pm.
The Scores:
NU 65 – Gaye 13, Alejandro 11, Salim 9, Javelona 7, Alolino 6, Celda 6, Morido 5, Abatayo 5, Diputado 2, Javillonar 1, Neypes 0, Tansingco 0
AdU 52 – Capote 13, Tungcab 10, Aquino 8, Ochea 5, Polican 5, Nalos 4, Bernardo 2, Bernardo 2, Baytan 2, Ng 2, Pasturan 1, Barrera 0, Margallo 0, Gumtang 0, Pedrosa 0
| | | | | |
| --- | --- | --- | --- | --- |
| TEAMS | 1ST | 2ND | 3RD | 4TH |
| NU (A, 4-1) | 19 | 31 | 51 | 65 |
| AdU (A, 1-3) | 14 | 26 | 41 | 52 |
Calvin Abueva, Raymond Almazan cut from pool
SMART Gilas Pilipinas' third session for the second leg of the 2019 FIBA World Cup Asian Qualifiers ended early on Monday evening.
Prior to the end of the practice, head coach Chot Reyes talked to team veterans Jayson Castro, Gabe Norwood, and June Mar Fajardo. The outspoken mentor told the seniors of the team that he is cutting Calvin Abueva and Raymond Almazan from the pool.
"The reason why we're dropping Abueva and Almazan for the second window is because they haven't showed up," lamented Reyes.
"It's already our third practice at hindi pa sila nagpapakita. It's simply a matter of disinterest.
"I guess they're not interested so we have to move on we can't wait for those guys," he pointed out.
Both Abueva and Almazan were part of the teams that competed in the 2017 SEABA Championship, the 2017 FIBA Asia Cup, and the first window of the 2019 FIBA World Cup Asian Qualifiers.
Only 10 players from the pool showed up for the team's third session. And with the second leg exactly one month away, Gilas cannot let a slip up happen especially against Australia.
"Aside from those two we don't know where Matt Wright is, while Allein [Maliksi] is attending a wedding in Australia. Other than that it's really just an issue of Calvin and Raymond if they don't want to be a part of the pool." expressed Reyes.
"That's the reason we're dropping them for the second window."